Hold These Truths

September 7, 2019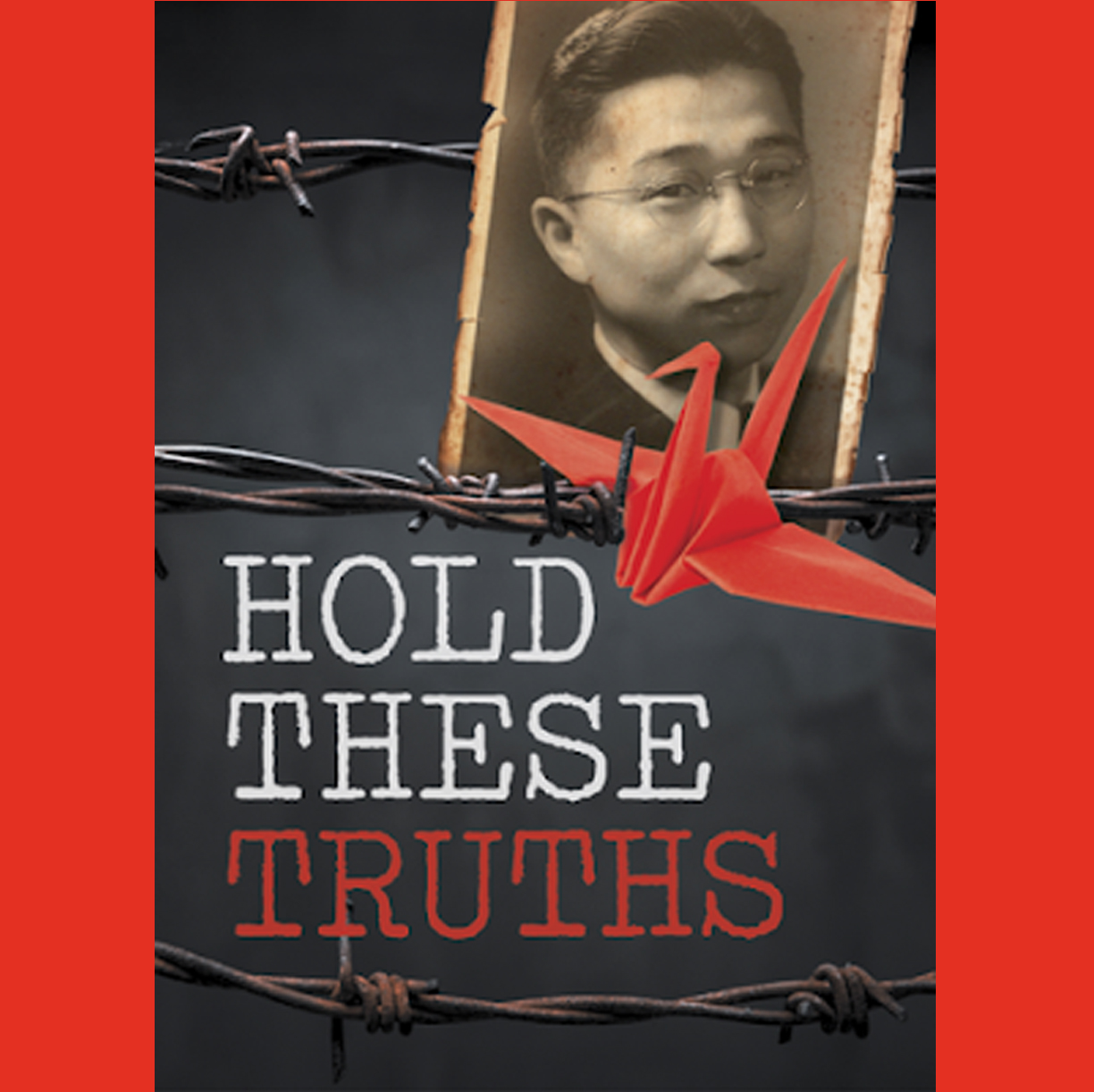 By Jeanne Sakata
A personal retelling of Gordon Hirabayashi's defiance of the government's WW2 curfew, forced removal, and mass incarceration of Japanese Americans
Concert readings by Ryun Yu
Assisted by a grant from the California Civil Liberties Public Education Program
Community Supporters
Partial listing: ACLU Sacramento Chapter / Amnesty International / Aoki Center for Critical Race and Nation Studies, UCD School of Law / Asian American Studies Program, CSUS / Beeson Terhorst LLP / California Faculty Association / Campaign for Immigration Detention Reform / Council on American-Islamic Relations - Sacramento Valley / CRLA Foundation / Cruz Reynoso Bar Association / Cruz Reynoso Voter Engagement Coalition / Florin JACL - Sacramento Valley / Florin LAW Academy / FUEL Network / Full Circle Project - Sacramento State / Indivisible Sacramento / JACL Sacramento Chapter / Jewish Voice for Peace / La Raza Lawyers Foundation / League of United Latin American Citizens, Lorenzo Patino Council / League of Women Voters Sacramento / Lincoln Law School of Sacramento / McGeorge School of Law / National Alliance for Trans Liberation and Advancement / National Lawyers Guild, Sacramento Chapter / NorCal Resist / Poor People's Campaign / SacLegal, Sacramento's LGBTQ+ Bar Association / Sacramento Area Congregations Together / Sacramento County Public Defender / Sacramento Immigration Coalition / Sacramento LGBT Community Center / Tsuru for Solidarity
Please consider sponsoring the event (Use "Add to Cart" button)
Sponsorship form: Click Here
Event Flyer: Click Here
Event Sponsors
Patron
Supporter
ACLU Sacramento Chapter
Beeson Terhorst LLP
Cake Farm
La Raza Law Foundation
Michael and Helen Iwahiro
Physicians for Social Responsibility
At the CALIFORNIA MUSEUM
1020 O St., Sacramento, CA 95814
SATURDAY, SEPTEMBER 7, 2019
MATINEE @ 2:00 – 3:30 PM
FREE TO THE PUBLIC
(Must acquire tickets in advance)
3:30 PM Panel Discussion, with ♦ Sharon Ito, Moderator ♦ Basim Elkarra, Executive Director Council on American Islamic Relations -Sacramento Valley/Central California ♦ Laura Flores-Dixit, Immigration Attorney, California Rural Legal Assistance Foundation ♦ Ebony Ava Harper, National Alliance for Trans Liberation and Advancement
4:15 PM Community Tabling
EVENING @ 7:00 - 8:30 PM
Admission - $25
8:30 PM Panel Discussion, with ♦ Sharon Ito, Moderator ♦ Laura Flores-Dixit, Immigration Attorney, California Rural Legal Assistance  Foundation ♦ Ebony Ava Harper, National Alliance for Trans Liberation and Advancement ♦ Ryun Yu, Actor, "Hold These Truths"
Use "Add to Cart" button to acquire tickets
(Including free tickets)
Parking: Across 10th street from the Museum in the Bonderson Parking Garage at 1500 10th Street, from 7 am to 10:30 pm. Flat fee $3.00, cash only.
During WWII in Seattle, University of Washington student Gordon Hirabayashi defies the US government's orders of forced removal and mass incarceration of all people of Japanese ancestry on the West Coast. As he struggles to reconcile his passionate belief in the US Constitution with his country's betrayal of it, Gordon begins a 50-year journey toward a greater understanding of America's triumphs – and a confrontation with its failures.
LOS ANGELES TIMES "At a moment in our history when American justice and perhaps even our sense of national purpose have eroded from the government's response to an outside threat…this thoughtful new one-actor play by Jeanne Sakata tells the true story of a Japanese American college student in Seattle who refused to become the Other, the Enemy Alien, in his own eyes or anyone else's......Ryun Yu plays Hirabayashi at various ages – as well as every other person Hirabayashi remembers – a fine-grained tour de force."
HUFFINGTON POST "A simple yet stunning one-man show inspired by the life and heroism of Gordon Hirabayashi…Hirabayashi's heroic stand against the United States government and the prevailing sentiment of fear and prejudice is brilliantly portrayed by Ryun Yu … a performance that at times moves the audience to tears while including several truly laughable moments."
The Speaker Series is part of the Foundation's two decades of law-related educational and charitable works in greater Sacramento's Asian/Pacific community. Each year, the Foundation awards scholarships to encourage community-conscious activist future lawyers. The Foundation has supported activities such as the Hmong Mediation Project and the CAIR immigration legal clinic; has produced numerous law-related workshops and programs; and has administered a federal research grant on World War II's notorious Tule Lake concentration camp.
The first two Speaker Series years brought A Conversation on Civics with Chief Justice Tani Cantil-Sakauye; Empowering the Community and Educating the Public through Law with Dale Minami; the Sacramento premiere of Konrad Aderer's documentary Resistance at Tule Lake; Bystander Intervention Training with the Council on American Islamic Relations; a panel on Bail Reform in California; and a screening of Sold, a human trafficking story, with a panel discussion on human trafficking. The Foundation screened the Sacramento premiere of Abby Ginzberg's documentary And Then They Came for Us, attended by 800, with a distinguished discussion panel and a social action networking session to encourage further organizing.