An Evening with Chief Justice of California Tani Cantil-Sakauye

A Conversation on Civics with Chief Justice of California Tani Cantil-Sakauye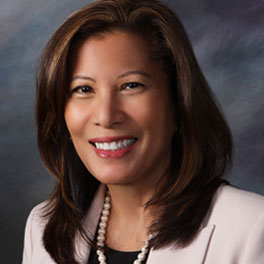 Tani Cantil-Sakauye
Chief Justice
California Supreme Court
The series opens with a Conversation on Civics with our own Chief Justice Tani Cantil-Sakauye, who is the 28th Chief Justice of the State of California. She was sworn into office on January 3, 2011, and is the first Asian-Filipina American and the second woman to serve as the state's chief justice. Chief Justice Cantil-Sakauye was born in Sacramento and attended C. K. McClatchy High School, Sacramento City College, University of California, Davis for her B.A. and law degrees. The Chief Justice is a role model for today's youth and tomorrow's leaders.
You will not want to miss this intelligent, passionate, and eloquent judicial leader.
This Announcement (PDF 162KB) may be downloaded for distribution.
Buy Tickets Online
General Admission: $35
ABAS Members: $25
Faculty & Students: $15
Age 18 & under: no charge (free), please email cfo@abaslawfoundation.org for tickets.
Limited seating available
Or Mail Checks To
ABAS Law Foundation
555 University Ave., Suite 235
Sacramento, CA 95825-6505
The ABAS LAW FOUNDATION is celebrating 20 years of law-related educational and charitable works in greater Sacramento's Asian/Pacific community. We have put on workshops including immigration assistance, employment discrimination law, and election procedures; we have given scholarships to community-conscious activist law students through our annual golf tournament; we have supported activities such as the Hmong Mediation Project, and we are continuing to administer a $47,400 federal research grant that is leading to a book on World War II's notorious Tule Lake concentration camp.
Information about sponsorships and tickets is on the sign-up page.
Become a sponsor today! Without your generous support, this and future speaker series events would not be possible. Becoming a sponsor is easy. Either click on the "Pay Online / Add to Cart" button on the right or download the sponsorship form (PDF 95KB) and mail in your sponsorship according to the instructions on the PDF. Thank you for your support!
Become a Sponsor!
Pay by Check (or when sponsorship level not available online):
Sponsor Form (PDF 95KB)
Save