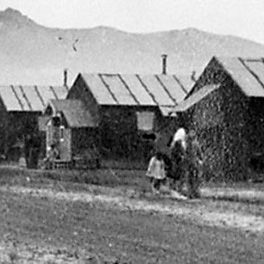 The ABAS Law Foundation has been awarded a $47,400 federal grant under the Japanese American Confinement Sites program to assist archival research on the Tule Lake concentration camp and segregation center. See Grant Letter (PDF 315KB). The ABAS Law Foundation co-applied for the grant with the authors, and administers it as the authors' fiscal agent. Foundation CFO Jerilyn Paik is carrying out the Foundation's grant administration.
To Tell an Untold Story
The grant will assist noted historian Roger Daniels and writer-activist Barbara Takei in their research about the Tule Lake Segregation Center, described on this website's Tule Lake Research Project page. The story of the Tule Lake Segregation Center is largely untold, perhaps because its subjects, the Japanese American protesters of the race-based wartime deprivation of civil liberties, have been stigmatized for seven decades as "disloyals."
Book Under Contract
The University of Washington Press has awarded authors Daniels and Takei a contract for the book that will result from the research. The book's topic and tentative title is "America's Worst Concentration Camp."
Authors Uniquely Qualified
Professor Emeritus Roger Daniels is the author of more than a dozen books including
The Politics of Prejudice; Concentration Camps, North America; Prisoners without Trial; and, in 2013, The Japanese American Cases: The Rule of Law in Time of War
. He was a consultant for the Commission on Wartime Relocation and Internment of Civilians. He is regarded as the founding dean of Japanese American studies. Barbara Takei, a Tule Lake descendant, co-wrote
Tule Lake Revisited
, a site guide and short history now in its second edition, and wrote "Legalizing Detention: Segregated Japanese Americans and the Justice Department's Renunciation Program,"
Journal of the Shaw Historical Library
, Vol. 19 (2005).
Research Has Multiple Uses
This research seeks archival records for two purposes in addition to the co-authors' book about Tule Lake. First, these records will help the National Park Service's Tule Lake Unit to interpret this largest, most complex, and most repressive of the ten War Relocation Authority concentration camps. Second, Densho, a Seattle nonprofit, will digitize these documents to make them available on its website, www.Densho.org, which is an extraordinary public resource for research and learning.
Grant Program To Teach about Injustice
The National Park Service's Japanese American Confinement Sites grant program helps preserve and interpret the confinement sites where Japanese Americans were incarcerated during World War II. "As America's storyteller, the National Park Service is committed to sharing this tragic episode of our nation's past and what it teaches us about the fragility of our constitutional rights," said National Park Service Director Jonathan B. Jarvis. "The goal of the program is to teach present and future generations about the injustice of the World War II confinement history and inspire a commitment to equal justice under the law," the Park Service said.